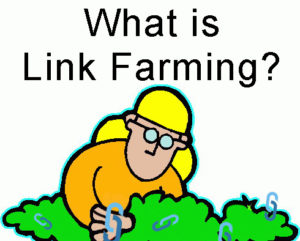 Hyperlink is connection between one page and others. People may call it as link. Basic concept of hyperlink might not be new, but internet puts this thing into popularity. What is link farming? You may get slightest idea from link farming due to word composition. To put in simple explanation, link farming is a method to connect one website to the others reciprocally.
Link farming can be referred as the perfect graph. Take an example, you are the web master and five websites are in your charge. To connect each other, you should develop certain link so viewers are able to visit another website directly and return again. Perfect graph means all websites are connected each other. In addition, one website contains four links. Link farming comes in handy to increase traffic and page rank due to high accessibility. For your information, this concept had been known since 1990s. When internet started to hit market, marketer and advertiser saw the huge potential to get more viewers. In the end, they expected to increase product sales. Popularity of link farming grew significantly at first generation of SEO. As you know, SEO has the main objective to put website on the top list in search engine page.
Everything has bad and good side. That's applied to link farming. Five or more websites are able to connect each other. Unfortunately, web master or developer does not care about association between one to others. Visitors will see the link to health topic that comes from car or vehicle. This is one of biggest frauds when using link framing. Having excessive link in one page is very irritable and uncomfortable. Sometimes, you go to unwanted page due to unintentionally hit the wrong click. In early age of search engine, many hyperlinks for one website indicate high-traffic and page rank. Your website will be on the top list easily. For some reason, people may call it as backlink. Link farming does not care about quality of content. High traffic is the main purpose of link farming. Funny thing about this matter is web developer will be called as link farmer.
What is the latest condition of link farming? Search engine evolves to adapt with future technology. Nowadays, link framing is categorized as fraud, though many websites still use it. Popular search engine develops technology to prevent link farming in single website. To reach the top page and rank, the link should come from compatibility website. For example, you can put the link about diet in website with certain topics, such as food, nutrient, exercise, etc. The key is one topic should match with others.
Further Reading
Oct 25, 2011

Oct 25, 2011

Oct 25, 2011