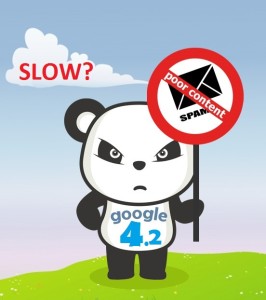 In mid July, Google released the latest Panda algorithm update to fight web spam. The update, called as Panda 4.2, targets sites of which the content is similar to other sites and sites that have low value content. Unfortunately, the update speed is not as fast as past updates. Unlike past updates that worked effectively within days or weeks, this algorithm update needs many months to show its impacts. As a result, sites that should be affected do not feel the impacts for months. This condition is also noted by Google Webmaster Trends Analyst John Mueller. He stated that the update creates problems for organic search marketers because it is the slowest moving algorithm.
The Importance of Algorithm Update Speed for Ecommerce Sites
Google's algorithm updates always have impacts to ecommerce business including its latest update. In the past, affected sites ranking on Google suddenly dropped once the update was rolled out. However, because the rollout of the latest update is slow, sites that should be affected by the update receive the impacts in a much slower time. The organic search performance of affected site decreases slowly; it may take several months for site owners to finally realize that the ranking drops. The algorithm update may have impacts to the whole site, not to individual page. The decrease of search performance may hit different pages at different times.
Because of the above conditions, it is more difficult for you to trace the source of an issue. Knowing the source of a problem enables you to solve the problem easily and fast. If you don't know where the problem starts or occurs, you seemingly will not be able to solve the problem. Then, Panda 4.2 requires you to make more efforts to repair the problem because you must wait for a longer period of time to see the improvement you have made to the affected content. In fact, if you run an ecommerce site, waiting for such a long time certainly will influence your business materials.
How Does Panda 4.2 Actually Work?
Panda algorithm update works by collecting sites that do not pass their standards and then decreases the ranking of the site on Google organic search performance. The system will collect data of sites for months and months. When the collected data of a site has reached a certain point, an update will be released. This means that you will be able to know whether your site is affected after several months.