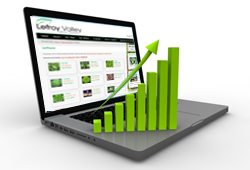 Last month Google analytics academy launched interesting training about how we analyze our website, user behaviour and demographic to increase sales from our website. If you have time or little bit interested in analytics, you can visit it at: https://analyticsacademy.withgoogle.com/
Interesting part is, e-commerce has been known since 2000 in Indonesia (maybe before that), but how many people in Indonesia have knowledge or perhaps using Google analytics or any web analytics tools to analyze their website? or improve their website to gain more sales or engagement with their user? I talked to several friends and clients who run online shop, and discussed with them how do they maximized or increase their sales? In summary they have 5 methods:
Instagram / any social network (twitter/fb/etc)
Paid search
SEO
Offline Ads
Blackberry group (but not as many as before)
Surprisingly, web analytics has not been one of them, at least it's not for small – middle size online shop. So, I asked them, do you know anything about web analytics or perhaps Google Analytics?
YES, THEY DO
So I replied the "what data did u usually see from Google Analytics?", they said:"I only need to know how many visitors come to my website,  that's it".
But what if I tell you web analytic can give great impact for your sales?
Here, some benefit from web analytic:
Get better insight where you should spend your money to reduced customer acquisition cost
Deliver campaign to reach right audience in the right moment and measure the impact
Audit your page: site-speed, alert and in-page analytics. A beautiful website would be meaningless if it doesn't work well
Analyze social media conversion and engagement within the website and which content that generate more conversion not only the traffic
Find out where you should promote your new product
Share your thought/opinion regarding web analytic.
Further Reading
Oct 25, 2011

Oct 25, 2011

Oct 25, 2011
Be our client today to get a Pre-SEO Analysis jump-start for your website. It's a free assessment and 100% awesome.
Let's do it